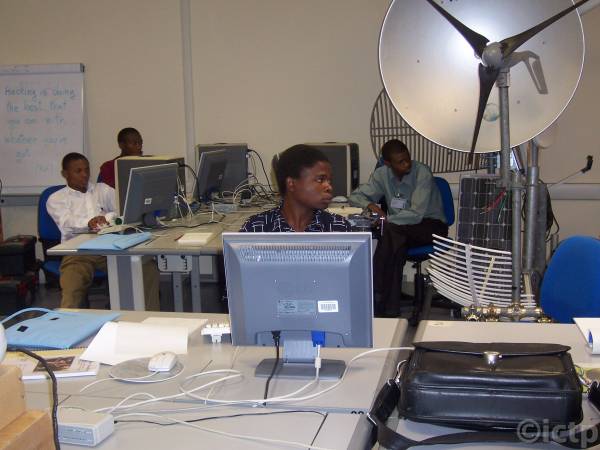 Yesterday the Systemadministrator Maganizo Monawe came to my office and introduced me to the italian Carlo Fonda of ICTP who is working in the next 10 days at the Polytechnic with a couple of students and lecturers on a "Wireless Networking" Project. After a few italian phrases it was obvious that Carlos group from Trieste work with the same attitude with his project not imposing western ideas in an imperialistic way. As I read on Carlos Wiki-Website in June 2006 there was a training course taking place in Trieste and now the workshop continues in Blantyre to connect the colleges and hospitals around the Polytechnic.
Carlo was also shocked by the high ISP (Internet Service Provider) prices in Malawi and also about the fact that the VSAT equipment, that was setup by the United Nations Developpment Programme (UNDP) on top of the Polytechnic building is run by Paulus Nyirenda commercially. The Polytechnic pays 3000 US$ monthly to SDNP for the 256 KBit uplink and 512 downlink connection.
Carlo further talked about person of the Wirless community, some of them I know from the Chaos Communication Congress (like Freifunk.net etc.). I watched a speech of Elektra Wagenrad at the congress last year about "Wifi Longshots" in Bangladesh. This know-how is also part of the ICTP wireless workshop and is a convenient technology for Africa. A lot of connection cables are digged out of the grounds and find different uses. The wireless technology can bridge big distances (world record 279 km) and cover wide areas. Together with the wireless meshed networking technology it can split many different access points with low bandwidth.